I really like my Schiit Stack. I enjoy my music through headphones mainly and the Schiit Stack is my source of choice.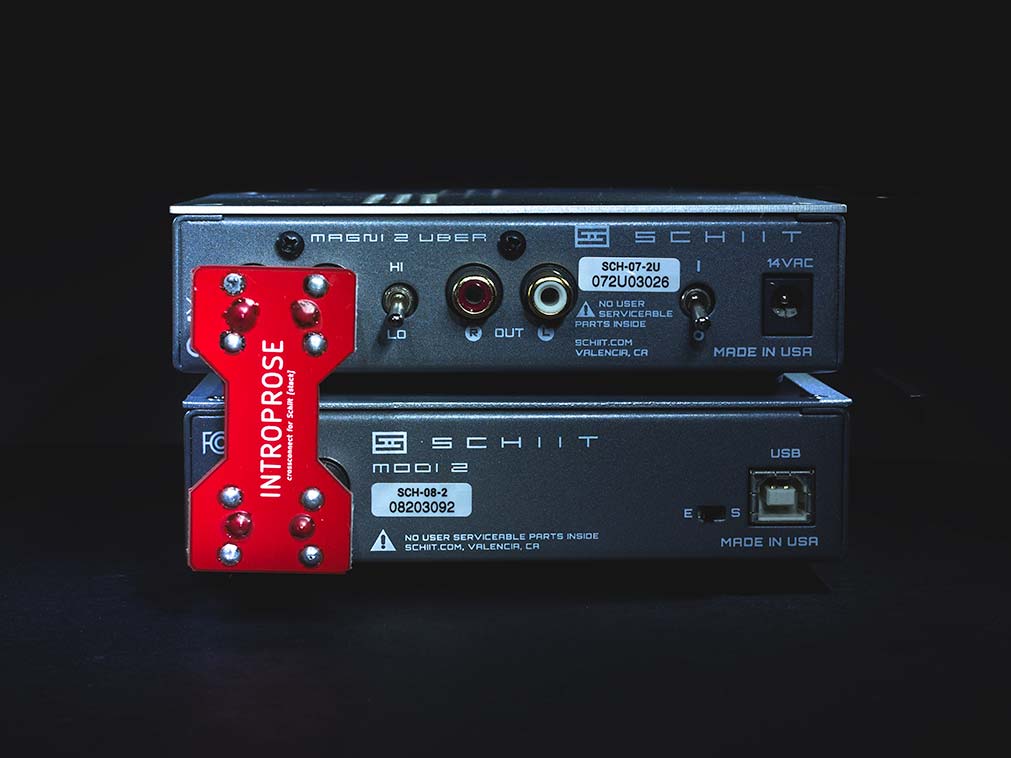 What is the Schiit Stack? Chances are you've probably heard of it, but in case you haven't. It's a headphone amplifier solution popular in the hi-fi community. Schiit Modi is a DAC, while Schiit Magni is the actual headphone amplifier. These two combined create what's commonly referred to as the Schiit Stack (pun intended jokingly ofcourse).
The DAC converts your computer's digital sound stream into analog signal, and the amplifier then amplifies it to the levels required by your headphones. These two components are normally connected using an RCA cable pair. But I thought this could be improved upon.
I have created a rigid PCB based cross-connect, which aims at being a more hassle free solution compared to the RCA cables.
When I'm adjusting the volume or when I plug my headphones in, since the amplifier isn't very heavy, it is possible for it to slide on top of the DAC unit. The rigid cross-connect helps keep it in place.
I am making all the design files and the bill of materials public and Open Source. Feel free to manufacture your own. However for your convenience there is also an option of buying this product from the store.
Update: Sun Jan 17 20:23:16 EST 2016
The feedback and general reception for the cross connect has been great. Founder of the Schiit Audio Jason Stoddard has had a nice few words to say about it on the head-fi boards as well:
Yep, David pointed Mike and I at this yesterday, and I think it is a very cool project. It really makes me want to do something like this, but I don't want to steal your thunder.

(If we were to do this, I'd probably overcomplicate it, looking at a flex board and a neoprene sleeve, with custom male PCB-mount RCAs...which would then probably blow the idea out of the water, unless the volume was huge...and we have other fish to fry.)

Aaanndd...for everyone waiting for us to do something like this: IT IS NOT IN THE WORKS. If you want this, buy this! It is very cool!
It is really cool to see a company like Schiit Audio show support.